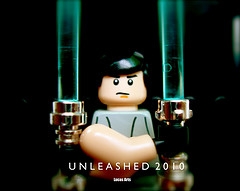 LEGO Star Wars: The Force Unleashed is a video game that take place between the third and fourth Star Wars movies. It is set to be released in 2013, and will be available for all consoles. The hub is the
Rogue Shadow
.
The Force
Edit
Bonus Levels
Edit
Characters
Edit
Starkiller (Also available as Starkiller (Training) (Heavy) (Light) (Medical) (Bounty Hunter) (Corellian) (Jungle) (Industrial) (Jedi) (Kento) (Sith) (Ceremonial) (Sith Stalker) (Temple) (Cybernetic) (Dark Stalker) (Sith Training) (Boy) (Spirit) (Utility Combat) (General) (Hood) (Sith Assasin) (Dark Apprentice) (Experimental Jedi) (Clone))
Juno Eclipse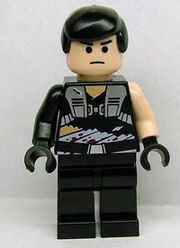 Rahm Kota (Also available as Kota (Blind) (Drunk))
Darth Vader (Also available as Darth Vader (Battle Damaged))
Emperor Palpatine
Bail Organa
Incinerator Trooper
Kashyyyk Trooper
Stromtrooper
Stormtrooper Commander
Proxy (Also available as
Scout Trooper
Shadow Trooper
Snow Trooper
Evo Trooper
Imperial Gunner
Jump Trooper
Ozzik Stern
Militia Trooper
Militia Elite
Shadow Evo Trooper
Militia Saboteur
Darth Maul
Mace Windu
Qui-Gon Jinn
Lightsaber Droid
Combat Droid
Republic Trooper
Tatooine Luke
Ben Kenobi (Also available as Kenobi (Ghost))
Plo Koon
Count Dooku
Jango Fett
C-3PO
Anakin Skywalker (Also available as Anakin (Damaged))
Darth Sion
Darth Malak
Darth Nihilus
Darth Revan
Darth Malgus
Imperial Commando
Kit Fisto
Luke Skywalker (Also available as Luke (Pilot) (Fallen))
Obi-Wan Kenobi
Ki-Adi-Mundi
Sith Training Droid
Sith Acolyte
Rebel Trooper
Rebel Commando
Boba Fett
Nemoidian
Saber Guard
Terror Trooper
Riot Trooper
Carbonite War Droid
Incinerator War Droid
Terror Spider Droid
Terror Biodroid
Master Yoda
Purge Trooper (Also available as Purge Trooper (Hacked))
Royal Guard
Senate Guard
Shadow Guard
Imperial Probe
Scrap Drone
Scrap Warrior
Junk Titan
Felucian Shaman
Felucian Chieftan
Felucian Warrior
Kazdan Paratus
Shaak Ti
Maris Brood
Wampa
Sith Stalker
Maulkiller
Assaj Ventress (Also available as Ventress (Nightsister))
Savage Oppress (Also available as Savage Oppress (Assassin))
Aayla Secura
Mara Jade
Darth Phobos
Lord Starkiller
Kento Marek (Also available as Kento (Ghost)) Darth Desolous
Chop'aa Notimo
Senator Bel Iblis
Mon Mothma
Lobot
Mandalorian Warrior
Mandalorian Bounty Hunter

Kleef
Bespin Guard

Mandalorian Guard (Also available as Mandalorian Guard (Jet))

Basilisk War Droid
Black Sun Mercenary
Lightsaber Customization
Edit
LEGO Star Wars: The Force Unleashed brings a new element to the game: a customizable lightsaber for Starkiller.
Black CrystalsEdit
Standard
Blue CrystalsEdit
Standard
Compressed
Unstable
Green CrystalsEdit
Standard Compressed
Unstable
Gold CrystalsEdit
Standard
Compressed
Unstable
Purple CrystalsEdit
Standard
Compressed
Unstable
Red CrystalsEdit
Standard
Compressed
Unstable
Yellow CrystalsEdit
Compressed
Unstable
Power Crystals - Bought from ExtrasEdit
Rubat - Power: Instant kill in lightsaber combat
Ruusan - Power: Invincibility
Lorrdian - Power: Starkiller automatically deflects bullets
Sigil - Power: Instant kill using sith lightning
Vexxtal - Power: Damages enemies over time
Firkrann - Power: Lightsaber attacks become electrical
Katak - Power: Starkiller gains more life from fallen enemies
Ad blocker interference detected!
Wikia is a free-to-use site that makes money from advertising. We have a modified experience for viewers using ad blockers

Wikia is not accessible if you've made further modifications. Remove the custom ad blocker rule(s) and the page will load as expected.